Tonic burgers & cocktails
141 Nethergate, DD1 4DP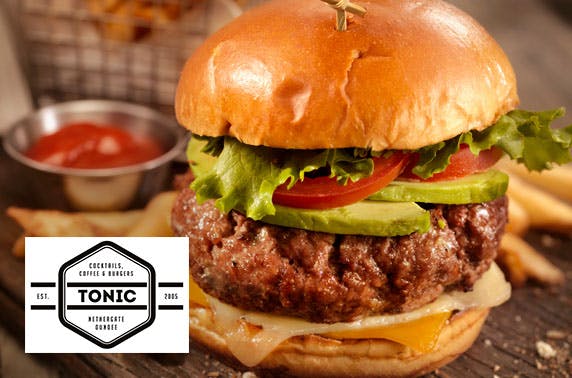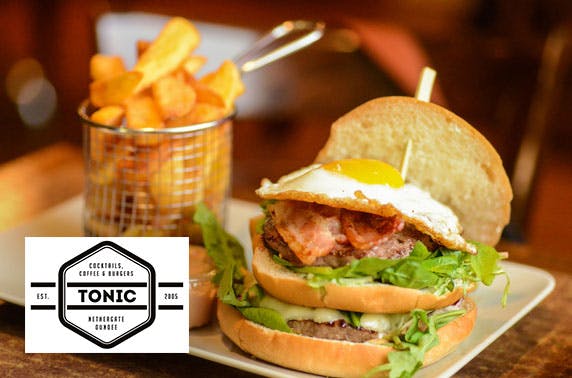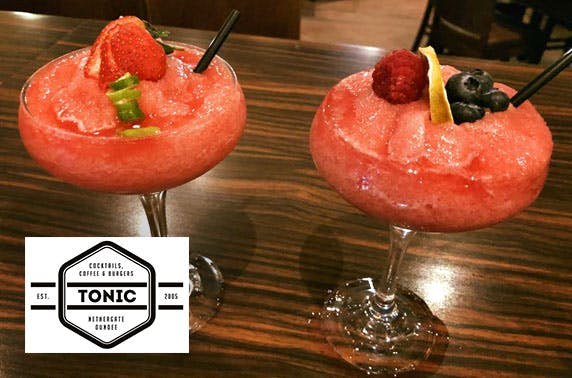 Burger and fries for one or two with optional cocktails at Tonic, City Centre; Independent burger and cocktail specialist - save up to 57%
Vital information
Vital information
Burgers and fries for one, or burgers and fries with optional cocktails for two
Choose from over 50 tasty burgers and signature Tonic cocktails like Negronis, French Martinis and more
Dundee's burger and cocktail specialist
Loved by itisoners, with 98% saying they'd recommend and return
Named in Buzzfeed's top 21 things to eat in Dundee
Burgers galore
Tonic has more burgers than you can shake a stick at, if shaking a stick at burgers is your thing.
By sourcing a broad range of local and national produce and maintaining an impeccable standard of quality, Tonic promises mouth-watering burgers that will leave you wanting more. You'll enjoy your choice of specialities like the Al Paca, Wild Water Buffalo and Goat & Green Pepper - yum!
Select the second option and you'll also sip on a tasty Tonic signature cocktail, choosing from the likes of a Cranachan with raspberries, Edinburgh raspberry gin, honey syrup and Chambord or an Irish Mule made with Jamesons, ginger beer, lime and mint.
Hot spot
Tonic has become a renowned favourite for food lovers. Known for its staggering choice of burgers and fabulous cocktail list, it's the perfect place to catch up with a mate or kick off a night in town.
itison favourite
"Love this deal, so many burgers to choose from in a great pub."

"Good atmosphere, very laid back."
"Went with friend to Tonic, had a great burger and fries . Selection of burgers was amazing. Helpful friendly staff. Can't wait to go back . Highly recommend."
Questions about today's deal