Italian dining & drinks at Quattro Zero West End
40 Queensferry Street, EH2 4RA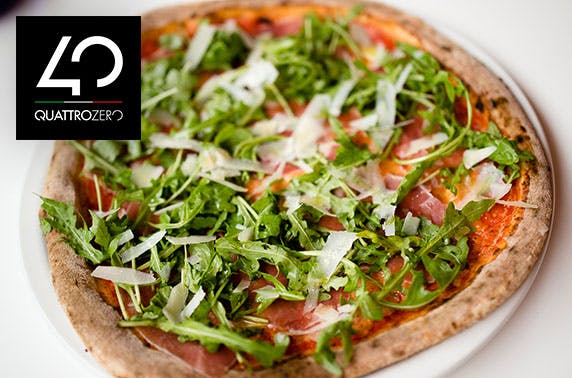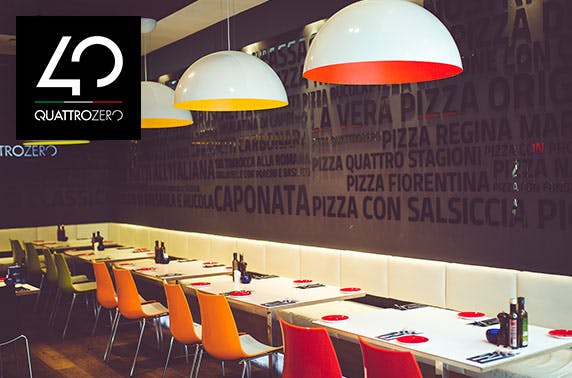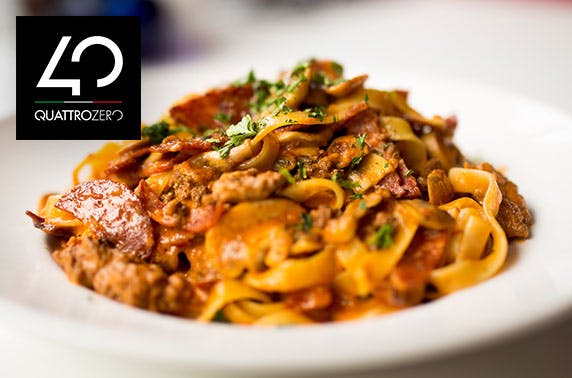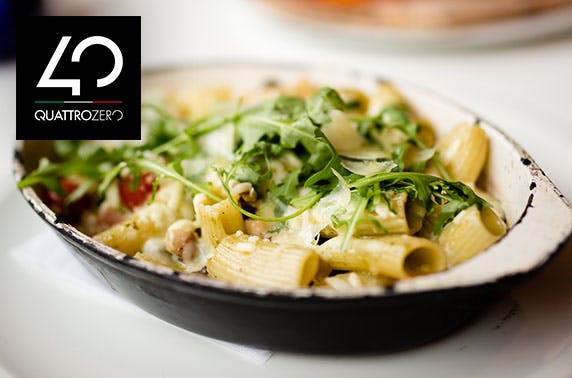 Pizza, pasta or risotto for two or four or 2 courses with a glass of wine or beer each for two at the newly-refurbished Quattro Zero, West End; run by the family behind Bar Napoli and Grand Cru - save up to 58%
Vital Information:
Pizza, pasta or risotto for two or four
Or 2 courses for two with a glass of wine or beer each
Newly-refurbished restaurant in the heart of the West End serving up authentic Italian treats
Rated 4/5 on TripAdvisor
Valid 7 days
Bella!
Treat yourself to some delicious Italian fare with today's deal for Quattro Zero in the West End. Take your pick from a wide range of pizza, pasta and risotto for two or four people to enjoy at the newly-refurbished restaurant in the heart of the bustling West End. Or go for two courses and a glass of wine or beer each – perfect for making a date night extra special.
Incredible Italian
If you're looking for traditional, authentic Italian food that'll leave you feeling all warm and fuzzy, Quattro Zero is the place to go. Tucked in the heart of the West End, all the pizzas are cooked in a wood burning oven and the desserts are homemade each day. Run by the Crolla family, who own Bar Napoli and Grand Cru, you know you're in for a real Italian treat.
Sample menu
Starters
Selection of cured Italian salami and cheeses with olives, pickles and dressed rocket salad
Mussels cooked with white wine, garlic, shallots, parsley and tomato sauce
Deep fried mozzarella cheese in bread crumbs, served with arrabiatta sauce
Mains
Maruzella pizza with sundried tomatoes, pesto, chicken and bacon, topped with rocket, extra virgin olive oil and parmesan shavings
Spaghetti al'Amalfitana with prawns, clams, fresh mussels, calamari, large king prawns, tiger prawns, tomato, basil, garlic and white wine
Risotto verde with Grilled asparagus, spring onions, courgette, peas, baby spinach, pesto, cherry tomatoes and rocket
Desserts
Vanilla ice cream with whipped cream and hot chocolate fudge sauce, topped with toasted nuts and a 99 flake
Chocolate and mascarpone filled sweet pizza
Profiteroles with cream, chocolate sauce and ice cream
Great reviews on TripAdvisor
"4 days in Edinburgh and this was the best restaurant we ate in. Staff friendly, seafood pizza and pasta cooked to perfection, not an overcooked mussel in sight and the prices were really reasonable for the large portions you received."
"Excellent service. This has become our usual place. Pizza is one of the best in Edinburgh and the waiting staff are very friendly. We feel very at home."
"Always had great meals here. Staff are fast and polite and the food and wine are just right."
Questions about today's deal