Italy V New Zealand rugby in Rome
Italy vs New Zealand, Stadio Olimpico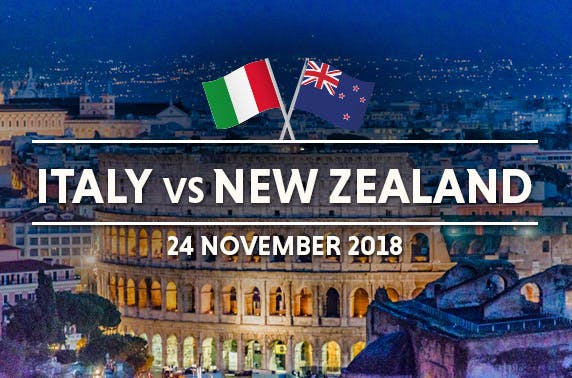 From £139 for one ticket to see Italy V New Zealand rugby on 24th Nov 2018 plus a 2-night stay in 3* hotel or from £159 for a 4* hotel in Rome
Vital Information
Two night stay in a 3 or 4* hotel
See the All Blacks take on Italy at Rome's biggest sports venue, Stadio Olimpico
Explore the stunning city full of ancient ruins and iconic masterpieces
Part of the action
Watch one of the Autumn Internationals games as the All Blacks face Italy in the stunning city of Rome. You'll visit the city's biggest sports venue, the Stadio Olimpico, where you'll get a seat at the goal end to enjoy all the action of the match. The Italians will have something to prove after being beaten 68-19 the last time New Zealand were in town in 2016, so it's already set to be a thrilling game – and you can be there to see it all!
When in Rome
Explore Italy's sprawling, cosmopolitan capital, full of nearly 3,000 years of globally influential art, architecture and culture. Marvel at the remains of the Roman Empire with ancient ruins like the Forum and the Colosseum; visit Vatican City, the headquarters of the Roman Catholic Church where St. Peter's Basilica and the Vatican Museums house masterpieces such as Michelangelo's Sistine Chapel frescoes; and of course, eat plenty of amazing Italian cuisine. Belissimo!
itisoners love World Choice Sports
"Very friendly and helpful team."
"Booked a trip to Rome for the rugby 2018. World Choice Sports dealt with our booking. Very professional and answered emails super fast. Very helpful indeed."
"Sorted out all arrangements, very helpful. Better than I expected!"
"Friendly and professional. Surprised it was easy to get through on phone. Conversation was friendly and helpful. Emails were answered well within my expectations."
A rough itinerary
Arrive on Friday 23rd November 2018 and check out on Sunday 25th
Stay at a choice of 3* or 4* hotels
Enjoy the Italy V New Zealand rugby game on Saturday 24th November at the Stadio Omimpico
Fit in some sightseeing around the beautiful, ancient city of Rome
Questions about today's deal