Buy a homeless person lunch @ Social Bite
131 Rose Street, EH2 3DT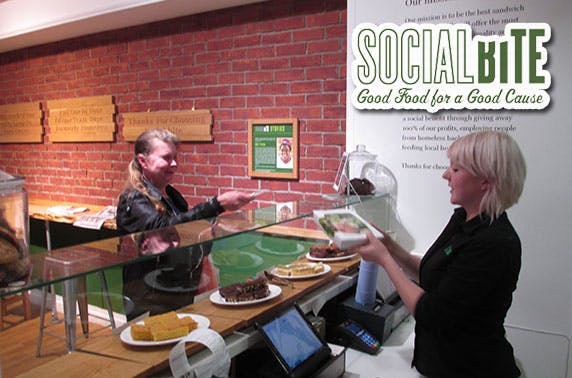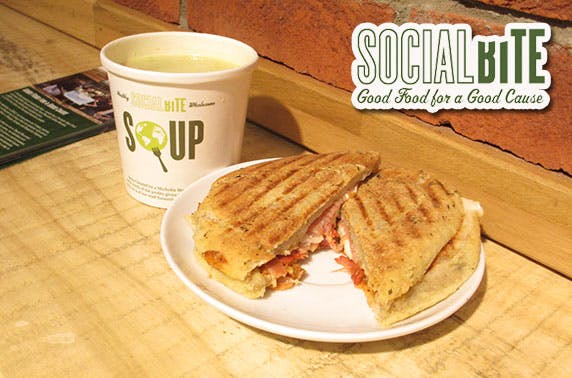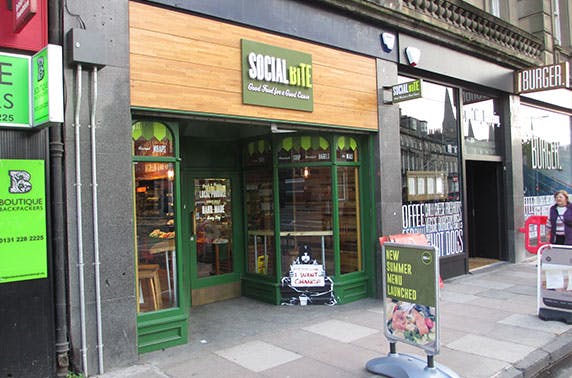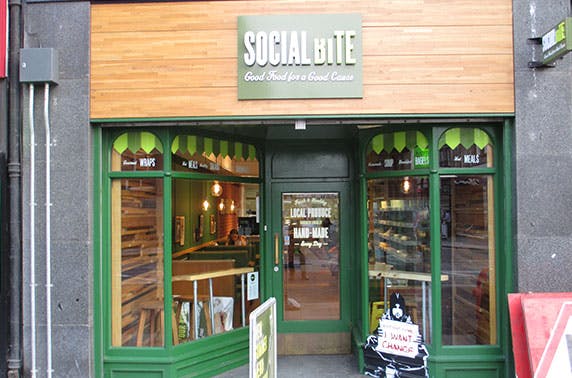 £4.50 to buy soup and a sandwich for a homeless person in Glasgow or Edinburgh from any Social Bite sandwich shop: a social business where good food supports great causes!
We met the amazing guys at Social Bite earlier this year at the Scottish Business Awards and we think the work they do is AWESOME. Social Bite is a social business which means 100% of their profits are given to good causes. What's more, it's a cracking place to grab lunch in Glasgow or Edinburgh.
Get involved and pay it forward with today's itison deal and buy a homeless person in Glasgow or Edinburgh lunch at Social Bite.
Vital Information
Social Bite have four city centre sandwich shops: two in Glasgow and two in Edinburgh
Every voucher purchased buys a homeless person lunch
Every voucher also entitles you to pop in and have a free hot drink on Social Bite!
100% of Social Bite profits are donated to good causes
Social Bite's seasonal menu is devised by Michelin starred chef Mike Mathieson
Social Bite lunches rival those of Pret a Manger and Eat...but they do GOOD!
A Social Bite near you
Social Bite sandwich shops can be found on Rose Street and Shandwick Place in Edinburgh plus St Vincent Street and newly opened Bothwell Street in Glasgow.
Good food, doing good
As the nights draw in and the colder months arrive, it's more important than ever to remember those less fortunate and buying this voucher is a great way to do just that. As well as producing fresh, competitively priced soups, sandwiches, gourmet pies, wraps, salads and more the team at Social Bite also feed over 30 homeless people every day. They're like superman, but with sandwiches instead of super-powers.
Join us...
Buying today's itison deal not only provides lunch for a homeless person, it also gets you a free hot drink which is a great excuse to pop in and check out your nearest Social Bite.
Social Bite's Executive Chef Mike Mathieson has a bunch of Michelin starred venues under his belt so why not join the itison team and make Social Bite your regular lunch spot? It really is a more fulfilling lunch!
CSR
Does your company lunch? If so, why not check out the menu here and let Social Bite provide the catering? That way your agendas and action points will be served up with a side of charitable giving which we think will make those spreadsheets far more palatable.
So why not join the itison team and make Social Bite your regular lunch spot? It really is a more fulfilling lunch!
Questions about today's deal