Campbells Prime Meat packs
Available for home delivery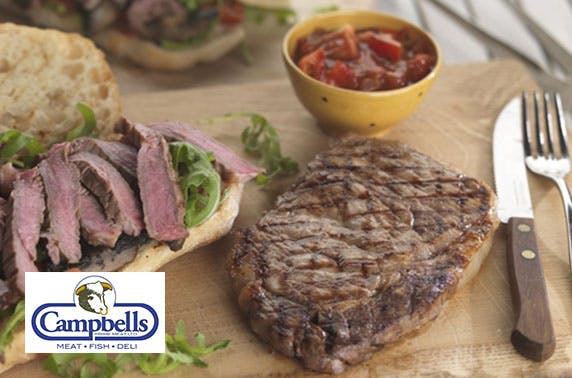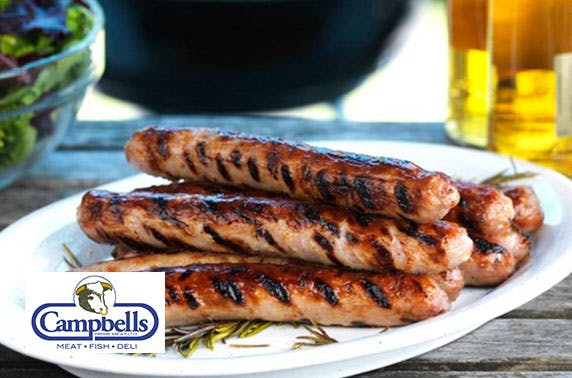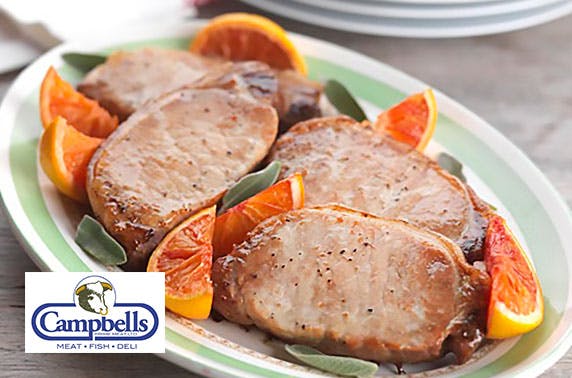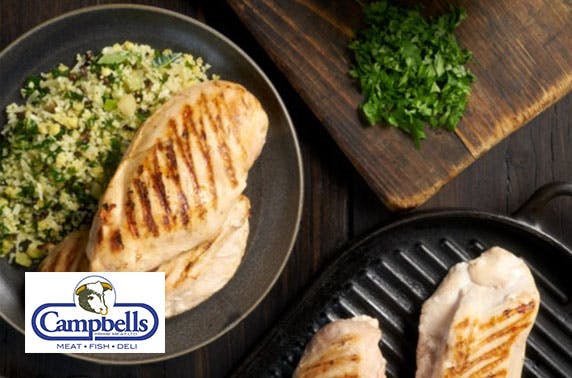 £29 instead of £59 for a Royal meat pack or £59 instead of £104 for a British premium pack from award-winning Campbells Prime Meat; suppliers to Michelin star restaurants – save up to 51%
Vital Information
Choice of a Royal meat or British premium pack, perfect for stocking your freezer
Scotland's leading family-owned butcher
Supplier to Michelin Star hotels and restaurants such as Tom Kitchin, Sheraton, The Balmoral and Nick Nairn
Winner of the UK's Best Website Based Business at the 2015 Meat Management Industry Awards
Rated 9.1/10 on Trustpilot
Choice of packs
Royal meat pack
Sirloin steaks – 2 × 198g
UK Rump steaks – 2 × 198g
UK Ribeye steaks – 2 x 170g
Steak mince - 1 x 454g
Premium pork sausages – 1 x 454g (contains 6 sausages)
Cooking guideline
Campbells catalogue with discount voucher and 2 free sirloin steaks with your next order
British premium pack
Sirloin steaks – 4 × 198g
Pork loin steaks – 4 x 170g
Steak mince – 1 x 454g
Hand-diced stewing steak – 1 x 300g
Beef stroganoff strips – 1 x 454g
Scotch pork loin mini roast – 1 x 454g
British whole chicken – 1 x 1.8kg
Skinless & boneless chicken thighs – 8 x 80g
Skinless chicken breast fillets – 4 x 198g
Mini steak burgers – 6 x 45g
Premium pork sausages – 1 x 454g (contains 6 sausages)
Tikka masala sauce – 1 x 300g
Campbells Prime Meat
A family-run business for over 100 years, Campbells Prime Meat offers the finest in fresh meat, fish and deli produce prepared on site.
To ensure high quality and delicious taste, pork is specially selected from Ayrshire stock, beef steak is traditionally matured for 21-28 days before being butchered on site, and poultry is quality assured with many birds coming from free-range farms.
This all results in premium-quality fresh and flavoursome cuts that are perfect for any meal, so it's no surprise that Campbells supply Michelin Star rated hotels and restaurants, and were voted winner of the UK's Best Website Based Business at the 2015 Meat Management Industry Awards.
Rave reviews
"The meat was beautifully tender."
"The venison haunch was wonderful, tender and tasty. All my guests enjoyed it. Delivery was as arranged. Highly recommended."
"Simple to order. Delivery prompt and the meat sublime."
What to expect
Royal Meat pack from Campbells Prime Meat includes:
- Sirloin steaks – 2 × 198g
- UK Rump steaks – 2 × 198g
- UK Ribeye steaks – 2 x 170g
- Steak mince - 1 x 454g
- Premium pork sausages – 1 x 454g (contains 6 sausages)
- Cooking guideline
- Campbells catalogue with discount voucher and 2 free sirloin steaks with your next order
OR
British premium pack includes:
- Sirloin steaks – 4 × 198g
- Pork loin steaks – 4 x 170g
- Steak mince – 1 x 454g
- Hand-diced stewing steak – 1 x 300g
- Beef stroganoff strips – 1 x 454g
- Scotch pork loin mini roast – 1 x 454g
- British whole chicken – 1 x 1.8kg
- Skinless & boneless chicken thighs – 8 x 80g
- Skinless chicken breast fillets – 4 x 198g
- Mini steak burgers – 6 x 45g
- Premium pork sausages – 1 x 454g (contains 6 sausages)
- Tikka masala sauce – 1 x 300g
Small print
Voucher is valid until Mon 30 Apr 2018; subject to availability.
Multiple voucher purchases permitted; one voucher can be used per customer per transaction.
Online orders only.
Voucher must be used in one transaction; no change given.
P&P: £4.99 per order or weekday mainland UK delivery and £6 for weekend, maximum delivery is 3 working days. Further delivery information here.
No vegetarian, gluten / wheat free options available.
Members will be supplied with a fresh product, which must be stored in a fridge. A fresh product is short lived and must be used within its shelf life, as stated on the label.
If you decide to freeze your fresh product, you must freeze it on the day of delivery. Please make sure the product is completely covered and labelled with the date the product is put in the freezer.
The product should be consumed within three months to retain the excellent quality and ensure no deterioration occurs. When you decide to use the product please completely defrost it before any cooking. Do not refreeze the product.
This item is non-refundable and we encourage you to check your goods upon receipt.
Whilst we're sure you'll be delighted with your order, if there is a fault please contact us upon receipt of your goods.
Vouchers cannot be used in conjunction with any other discount or offer.
The delivery times provided are approximate and do not guarantee a delivery date unless otherwise stated.
Images used for illustrative purposes only.
Questions about today's deal