Clay Oven Indian dining, Shawlands
67 Kilmarnock Road, Glasgow, G41 3YR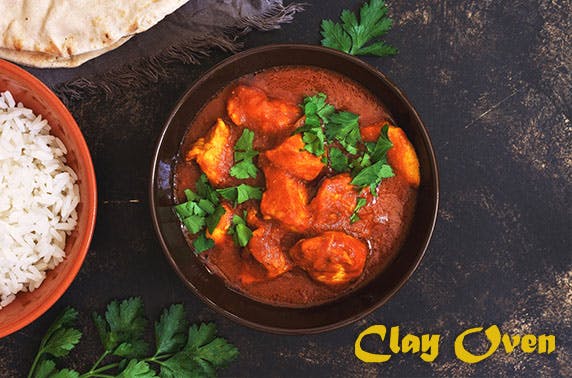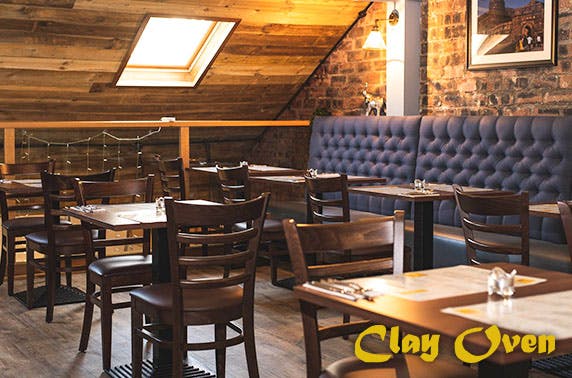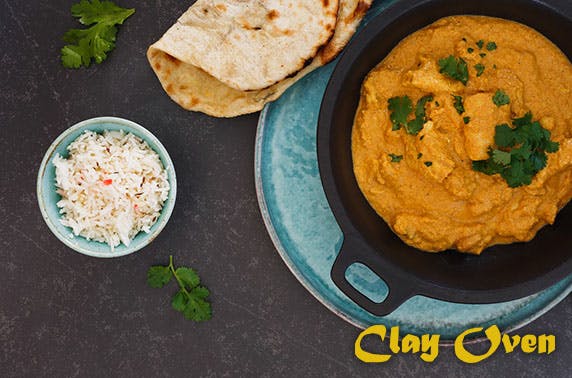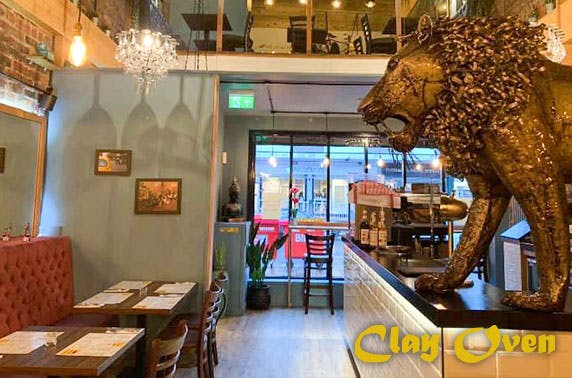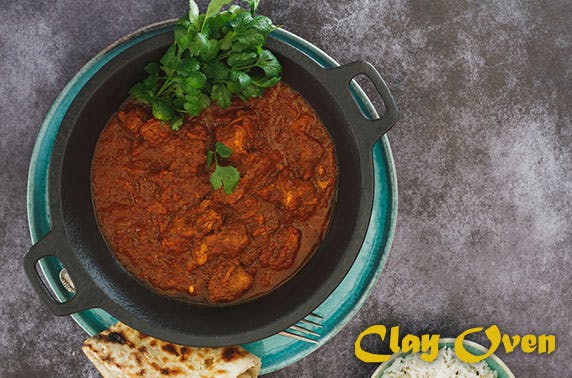 Curries for two with naan bread, a gourmet platter starter with mains & naan to share or 7 tapas to share with naan at recently-opened Clay Oven, Shawlands - save up to 58%
Vital Information
Curries for two with naan bread
Or a gourmet platter starter with mains & naan to share
Or 7 tapas to share with naan
Newly-opened Indian restaurant from the team behind the popular Clay Oven in Giffnock
Great Southside location in Shawlands
Indian feast
Enjoy a delicious Indian treat with today's dining deal for Clay Oven. Our first option is for a curry each for two, choosing from the likes of Tikka Masala, Jalfrezi and Korma, served with naan bread. Alternatively, you can go for a gourmet platter starter featuring a generous mix of appetisers of your choice, followed by any main course and a naan to share.
If you like a bit of variety when it comes to your meal, opt for our third option of 7 tapas and naan to share. Choose four starters and three mains from the sample menu and tuck into a bit of everything. Perfect if you're feeling indecisive, and we don't blame you – the menu is packed with mouthwatering dishes!
Clay Oven
Due to the success of the Clay Oven takeaway in Giffnock, the team have now opened a restaurant in Shawlands so Southsiders can enjoy their incredible authentic Indian dishes. With a fully-loaded menu and something to suit all tastes, there's even plenty of vegetarian and vegan options to get stuck into. You can BYOB for only £1 per person and the multitude of options with today's deal means you can have your very own perfect evening.
Sample tapas menu
Starters
Chicken pakora
Vegetable pakora
Mushroom pakora
Bombay Bhel peanut puffed rice
Chaat bombs with chickpeas and spices
Papdi chat – crispy, savoury dough wafers
Mains
Butter chicken
Creamy lentil Tarka Daal
Tikka Masala with choice of meat or veg
Spicy vegan Bhindi bhaji
Vegan chickpea Chana Masala
Korma with choice of meat or veg
Chasni with choice of meat or veg
Jalfrezi with choice of meat or veg
Saag paneer with cheese and fresh greens
Fabulous reviews
"Loved it, really nice to see a street food restaurant hit Shawlands from the ever-reliable Clay Oven team. Chaat Bombs, Bel Puuri and Threeway Chicken made for a great evening of tasty treats and definitely a more interesting experience than your traditional Glasgow Indian eatery. Will be back for more soon."
"First off the staff were amazing. So helpful, friendly and attentive. Then the food came and the butter chicken curry was one of the most tender and flavoursome dishes ever. Don't really know how this could go wrong. It was amazing, I will be that annoying friend that tells you all about my dinner cause you should definitely go it was so good."
"Lovely restaurant and great staff. The food was definitely 5*. Will be back again."
Questions about today's deal