Embargo dining & drinks, Byres Road
71 – 77 Byres Rd, Glasgow, G11 5HN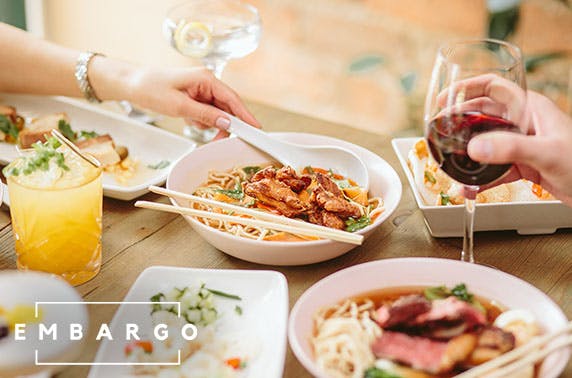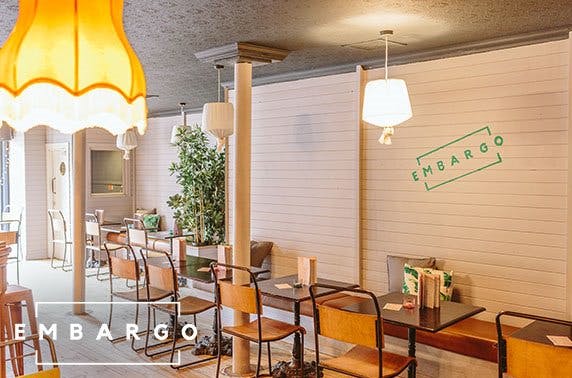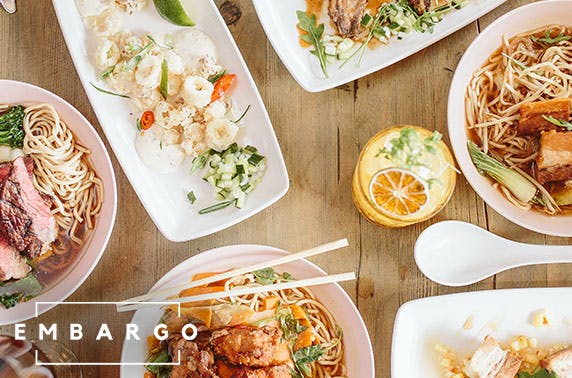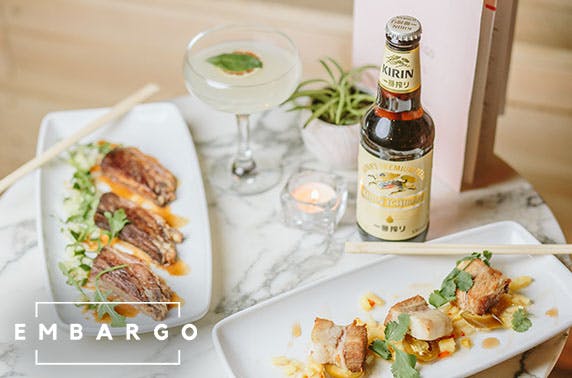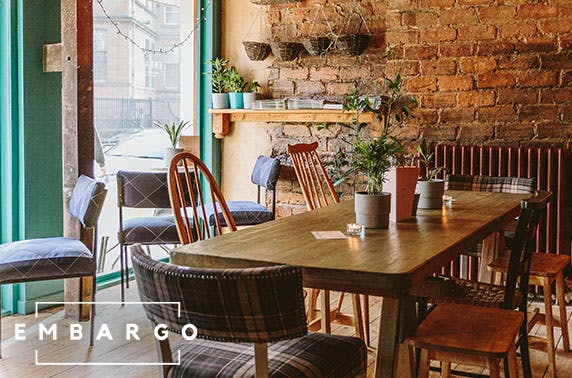 Burger and fries or ramen for two or 3 small plates and a side to share with optional cocktail, wine, beer or bottle of Prosecco at recently-opened Embargo, Byres Road; tipped to be a big hit by Glasgow Live - save up to 56%
Vital Information
Burger and fries or ramen for two
Or three small plates and one side to share
Options to include a cocktail, wine, beer or bottle of Prosecco
Recently-opened restaurant tipped to be a big hit by Glasgow Live
Handy location on Byres Road in the West End; just a three-minute walk from Kelvinhall subway station and six minutes from Hillhead subway
5/5 TripAdvisor rating
Delicious dining
Show someone you love them by treating them to a fantastic meal with today's deal for the recently-opened Embargo on Byres Road. With our first option, you and your lucky companion will enjoy your choice of juicy burger served with a helping of fries – go for the likes of the Aussie, a 6oz beef patty topped with cheese, BBQ sauce and tempura onion ring; or a crispy fried chicken burger topped with katsu curry. Or a flavoursome ramen each, choosing from options like charred sirloin steak with noodles, boiled egg, vegetable broth, broccolini and kimchi; or fermented oyster mushroom ramen with spring onion and spinach. You can also opt to include a cocktail or glass of wine or beer each if you really want to show them you care!
Alternatively, prove that sharing is caring with three small plates and one side between the two of you, with the option to add a drink each or even a bottle of Prosecco to make your evening extra special.
Embargo
Recently opened in place of Bar Gumbo, Embargo is already making its mark on the West End food scene, impressing locals and visitors with its delicious Asian-influenced food, quirky décor and extensive drinks menu. The venue has already acquired a flawless TripAdvisor rating with 5/5 reviews and has been tipped by Glasgow Live to be a great hit in the West End – you heard it here first!
5/5 TripAdvisor reviews
"We loved this place immediately – there's a great feel to the venue and the staff are really welcoming and knowledgeable. We had a couple of cocktails and a quick bite – both the food and drinks were exceptional. This place is a gem."
"Fabulous little spot - just what Glasgow needs. Chilled out vibe and great quirky décor. The menu is varied and puts a fun twist on delicious favourites. Looking forward to our next visit!"
"Amazing food and the drinks are outstanding and very well priced – we will 100% be back! Dog friendly too."
Questions about today's deal