Flight simulator experience with Ascent Aviation, Paisley
Rooms 201-204, 32 Napier Street, Paisley, PA3 3AJ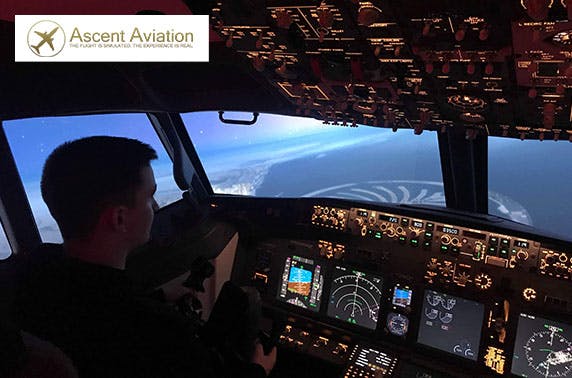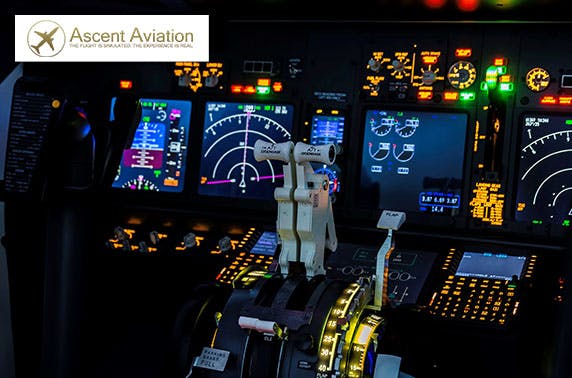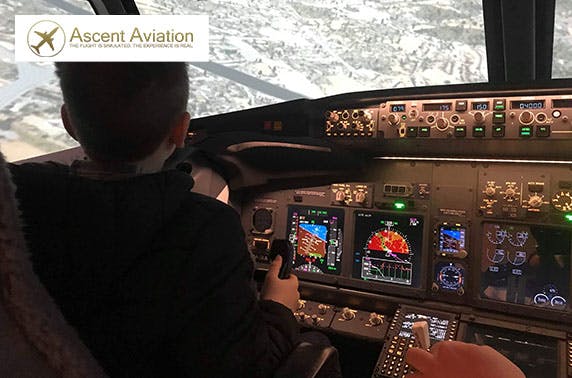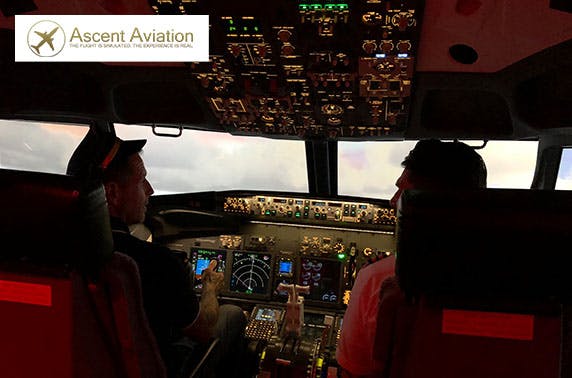 30, 60 or 90 minute Boeing 737–800 flight simulator experience for one with Ascent Aviation, Paisley; incredible realistic piloting experience & option to choose your own route - save up to 51%
Vital Information
30, 60 or 90 minute Boeing 737–800 flight simulator experience for one
Super realistic flight model and controls to scale with 220° HD visuals
Choose from over 24,000 airports and cities all over the world, with the option to fly around landmarks like the Statue of Liberty and Dubai's Palm Islands
Rated 5/5 on TripAdvisor
Come fly with me
Take to the skies (almost) with today's deal for a flight simulator experience at Ascent Aviation in Paisley. You'll get in the perfectly-replicated cockpit of a Boeing 737–800 for 30, 60 or 90 minutes of flying wherever you want in the world, using the incredibly realistic flight model and controls with no dummy parts.
Learn how to take off and land, understand the controls and fly a real world gate-to-gate route between two major airports of your choice. Perfect for anyone with aspirations to become a pilot or simply with an interest in flying to enjoy a fascinating day out.
Ascent Aviation
Based in Linwood, Paisley, Ascent Aviation's high-tech flight simulator are the best on the market thanks to their super realistic set-up, fully enclosed cockpit and 220° HD visual system. Their advanced instructors station has the ability to accurately simulate failures, adverse weather scenarios and performance characteristics for a real true-to-life flying experience.
Top marks on TripAdvisor
"Went to Ascent Aviation and was blown away by the whole experience, from the professionalism and knowledge of the staff to the simulator itself. Gave a total novice the best possible experience of flying the 737 simulator. Still buzzing after the experience and I'll return for another go. I can't rate this highly enough for any potential pilot or anyone just wanting to experience the thrill of piloting a commercial jet. Absolutely fantastic!"
"Thanks to the wonderful people at Ascent Aviation we enjoyed the afternoon learning to fly a Boeing 737-800. A hugely enjoyable and immersive experience which also left us with a healthy respect for the real pilots who fly us to and from our holiday destinations, making it look so effortless. Highly recommended experience."
"Wow! We have been eager to try this since it opened and we were absolutely blown away. The visuals are stunning and the quality of the flight deck itself is exceptional, with every switch, button, dial and gauge working as you'd expect in the real thing. Everything is so immersive that you really feel like you're in a real aircraft!"
Questions about today's deal