Greek dining at Plato, Bothwell
27 Main Street, Bothwell, Glasgow, G71 8RD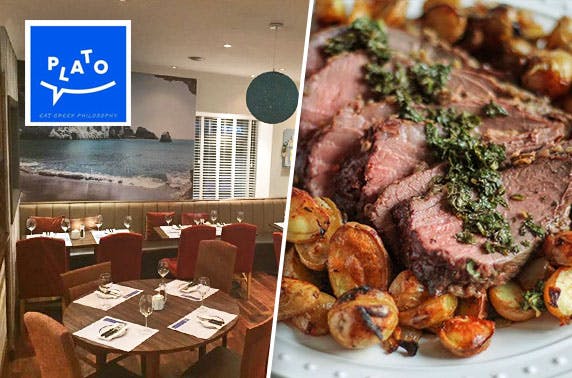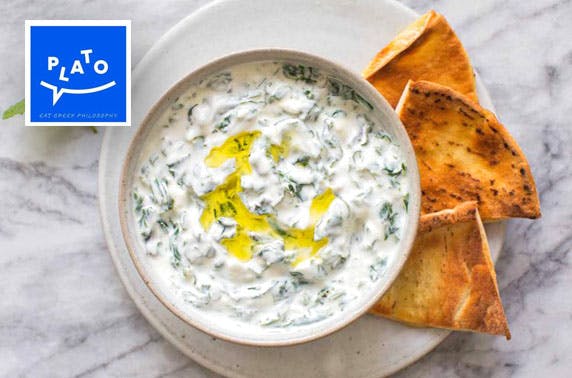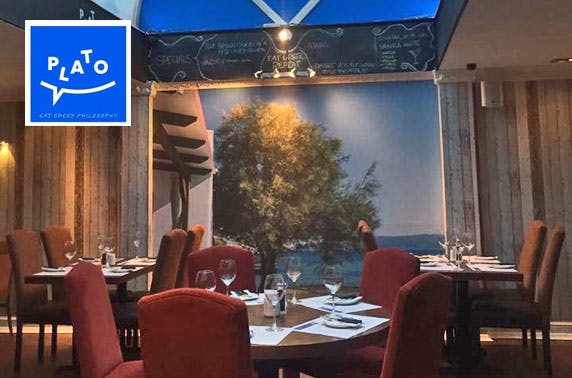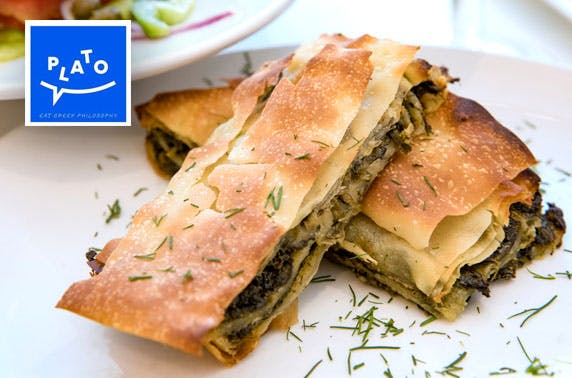 2 course meal for two with an optional glass of wine each at Plato; taste traditional & modern Greek dishes in the heart of Bothwell – save up to 52%
Vital information
Two courses for two
Option to include a glass of wine each
Fantastic restaurant taking culinary inspiration from the Greek island of Milos
Great location in the heart of Bothwell
Rated 26/30 by The Scottish Sun's Tam Cowan
4.5/ 5 TripAdvisor rating
Valid 7 days
Greek goodies
Today's deal will see you and a hungry buddy tuck into two delicious courses of Greek grub at Plato; promising a true taste of modern Greek cuisine, this Bothwell hot spot takes its inspiration from the beautiful island of Milos.
You'll begin with sumptuous starters like feta cheese wrapped in filo pastry, deep fried and drizzled with honey and sesame seeds; or mini Greek meatballs made with lamb, beef and fresh herbs, cooked in tomato sauce and served with garlic and oregano bread. Moving on to mains, try the classic moussaka, made from layers of beef and lamb mince with aubergine and potato, topped with a homemade béchamel sauce and sprinkled with kefalotyri cheese before baking. Or if you'd prefer a veggie option, go for the spicy battered halloumi burger, topped with crispy romaine lettuce, sliced red onion and beef tomato, plus a side of hand-cut chips and homemade slaw. No matter what takes your fancy, you'll have the option of washing it all down with a glass of wine each – opa!
Bothwell beauty
Launched late last year, Plato has gone on to become one of Bothwell's favourite spots, impressing locals and the likes of The Scottish Sun's Tam Cowan who recently gave this Greek gem a 26/30 rating. Ideal for chilled dinner dates, tasty catch ups and traditional family feasts and with a sophisticated décor that's reminiscent of sandy days spent on one of Milos' golden beaches, you'll be well placed for some serious indulgence!
4.5 TripAdvisor rating
"Refurbished to a fantastic standard, providing an authentic Greek experience! The food was exquisite and the portions were decent too. Both our waitresses were lovely and very knowledgeable about the food and wine options, providing good advice on choices and so professional! To round it off, our cappuccinos were the best we've ever had. Lanarkshire has been crying out for a decent Greek restaurant like this and we honestly can't wait to return."
"Very rarely do you walk into a restaurant where the staff look very happy at their work and keen to provide a good experience. The staff were amazing and the night just got better with amazing food and wine. A lovely atmosphere and I would definitely recommend and go back for sure."
"Had a great night with friends at Plato. From our welcome to leaving, the service was very friendly, the food was excellent and the prices were great. Can't fault it in any way; we even had traditional Greek musicians playing. I would recommend an evening here for a unique taste of Greek food. We will be back."
Questions about today's deal