Red Onion vegan dining & Prosecco
257 West Campbell Street, G2 4TT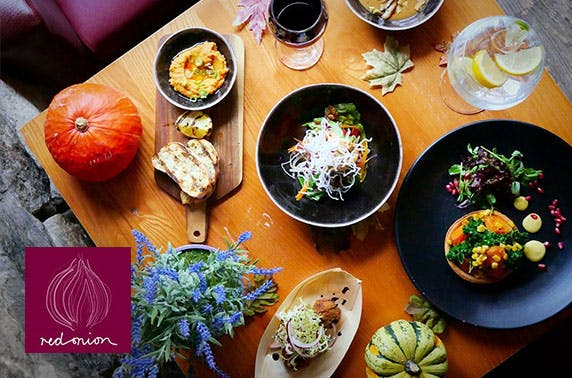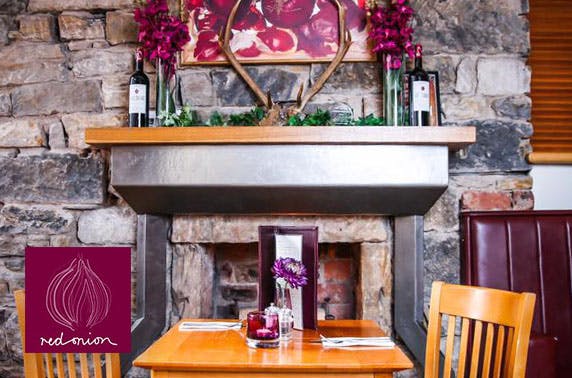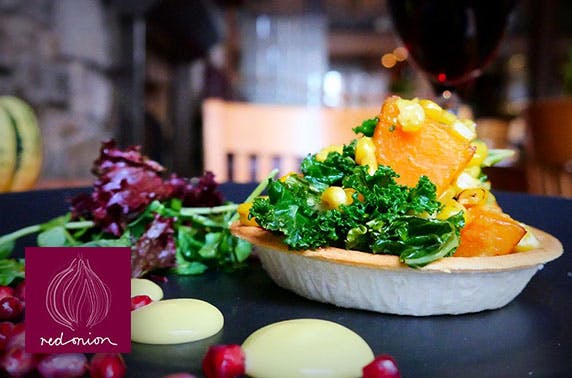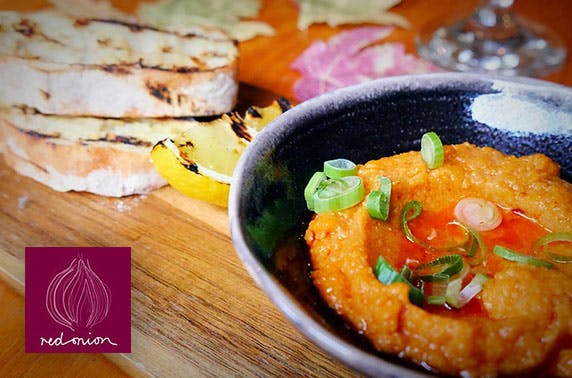 Vegan dining for one or two at Red Onion, City Centre; tuck into 2 courses plus an appetiser & glass of Prosecco in one of Glasgow's top restaurants for vegans - save up to 52%
Vital information
Vegan two-course meal for one or two
Non-vegan alternatives also available for two person option
Includes a glass of Prosecco plus an appetiser to start
Head chef John Quigley has travelled the world as a private chef to celebrities such as Bryan Adams and Tina Turner
Red Onion features in the Glasgow Vegan Guide and is listed as one of the city's top vegan restaurants by Watch Me See food blog
4/5 TripAdvisor rating and loved by itisoners
Valid 7 days
Lett-uce vegan!
If one of your resolutions for 2019 is to give the plant-based lifestyle a shot, you're in for a real treat with today's super green deal at the sensational Red Onion.
Whether you choose to go solo or bring a buddy along, you can make Veganuary a breeze with a two-course dining experience at one of Glasgow's top vegan-friendly restaurants. As well as a mouth-watering starter and main, you'll be treated to a scrumptious harissa spiced hummus spreading plate to help fire your taste buds up. And if you're keen to go green but your pal needs a little convincing, it's no problem – they can swap their courses for non-vegan alternatives.
With a glass of Prosecco to wash it all down, what's not to like? When the food is this tasty, we won't be surprised if you decide to take up veganism for good!
Red Onion
Located on West Campbell Street, Red Onion has been wowing Glasgow's diners for more than a decade with its extensive menu of foodie delights. Having previously travelled the world as a chef to the likes of Tina Turner, chef-patron John Quigley brings an extensive knowledge of fine dining and global cuisine to every dish; an element that has diners returning again and again. In addition to its rave reviews from the likes of The Daily Telegraph and Sunday Times, Red Onion has also been noted by food blog Watch Me See to be one of the city's best for vegan food and featured in the Glasgow Vegan Guide just last year. Whether you're a vegan or carnivore, you'll find something exceptional to suit your taste and lifestyle at Red Onion.
Sample vegan two-course menu
Appetiser
Harissa spiced hummus spreading plate
Starters
Fresh vegetable soup of the day
Haggis bon bons served with confit beetroot and plum tomato chutney
Mixed tempura vegetables with sweet chilli and soy dipping sauces
Bang bang avocado salad with a spicy peanut dressing and crispy noodles
Mains
Roasted ratatouille tart with Provencal salad and balsamic dressing
Wild mushroom risotto with garden peas, spring onions and crispy kale
Root vegetable korma with crispy onions, coconut rice, salad and roti paratha
Crispy bean cutlet with spicy house tomato ketchup, rocket and French fries
Rave press reviews
"John Quigley brings a smart brasserie to the City Centre with a menu aimed to please every diner" – The List Eating and Drinking Guide
"Red Onion is relaxed, superb value and refreshingly straightforward" – Sunday Times
"Beautifully presented, egg intact, fish fresh and delicious, nice creamy sauce - can't fault it," – The Daily Telegraph
Questions about today's deal