The Battle of Bannockburn Experience
The National Trust for Scotland, Glasgow Road, Stirling, FK7 0LJ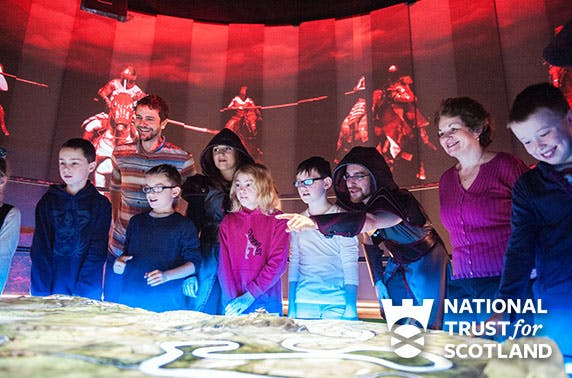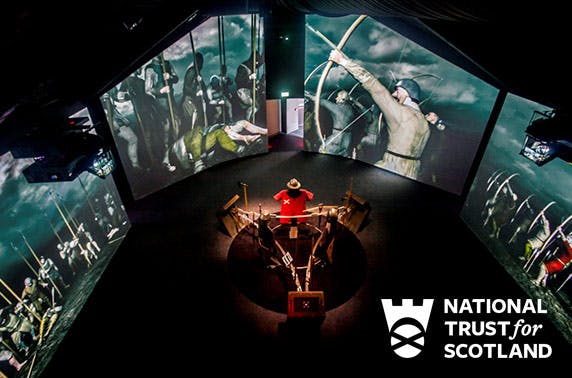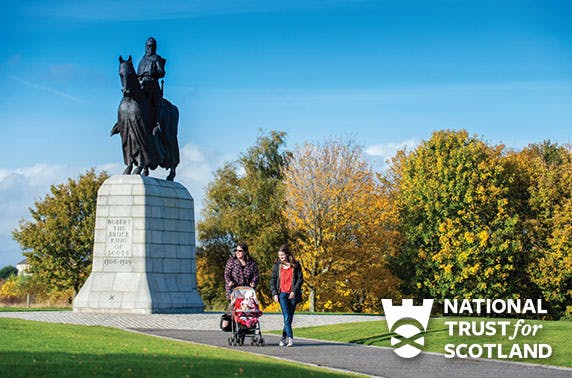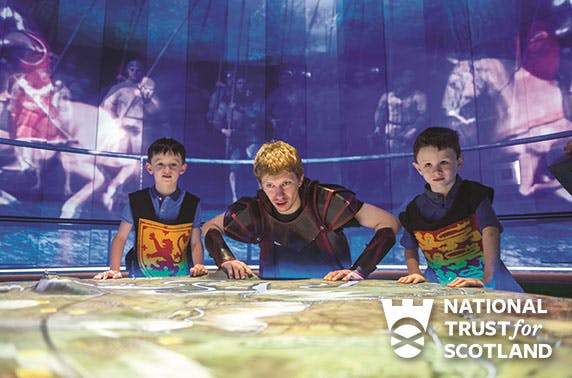 Two adult tickets or one family ticket with optional lunch to The Battle of Bannockburn Experience; 3D technology creates an immersive battle experience where you can lead your own soldiers in a state-of-the-art authentic simulation - save up to 57%
Vital Information
Two adult tickets or one family ticket for two adults and up to four children
Option to include soup and a sandwich for adults and soup for kids
Cared for by The National Trust for Scotland and featuring state-of-the-art 3D technology and an interactive battle room
First tourist attraction in the world to use fight choreography and state of the art motion capture techniques to bring the battle to life
Rated 4/5 on TripAdvisor
Valid 7 days
State-of-the-art experience
Today's deal for The Battle of Bannockburn Experience puts you right at the heart of the action. You'll be able to stand shoulder to shoulder with life-sized 3D medieval warriors, hear battle tactics from characters supporting King Robert the Bruce and King Edward II and learn about the weapons and armour that would have been used.
Then join other visitors as you prepare for your own conflict in the Battle Room, where cutting edge technology and flash projections bring your war games to life and allow you to experience medieval combat like never before, leading your own division of medieval soldiers in a dramatic battle simulation. With input from leading experts ensures that the experience is as authentic as possible, allowing you to witness the sights and sounds of medieval battle as it would have been in 1314.
There's also an option to include lunch with soup of the day and a sandwich for adults and soup with a slice of bread for kids – perfect for unwinding after using up all that adrenaline!
Historic event

The landscaping and parkland around the centre allow visitors to appreciate the battleground and restored commemorative monuments, including an iconic statue of Robert the Bruce cast in shimmering bronze.
So take your place among fearless medieval warriors and discover how two kings changed the path of Scotland's history forever.
Fantastic reviews on TripAdvisor
"One of the best historic experiences I have enjoyed. Lasted almost 90 minutes with a very entertaining re-enactment in the battle room with a very knowledgeable and entertaining young man. Highlight for me was the 3D surround film room. All in all excellent value and historically very interesting."
"We were in for about 2 hours and learned an awful lot about The Battle of Bannockburn. The 3D experience and the battle room all add a different angle to history. Well worth the visit and would certainly recommend anyone with kids to pay a visit - makes history exciting and accessible."
"Excellent! A superb experience and so well laid out. You have the freedom to explore the battlefield site then a superb 3D presentation. Then something unique - the battlefield reenactment, which was brilliant! The battle master was inspirational! His passion and knowledge were incredible, I thought I was passionate about Scottish history but he was incredible!"
Questions about today's deal
The Battle of Bannockburn Experience
The National Trust for Scotland, Glasgow Road, Stirling,
FK7 0LJ
Tel: 01786 812664