The Edinburgh Dungeon tickets or unlimited annual pass
31 Market Street, EH1 1DF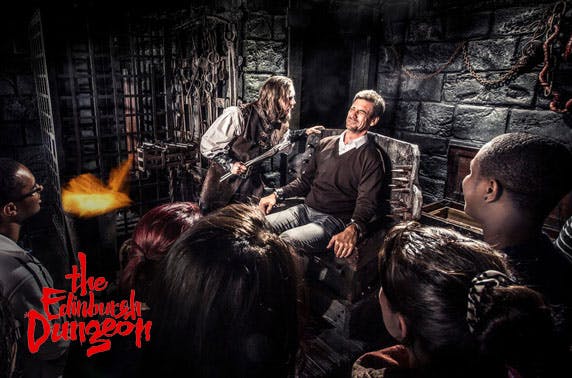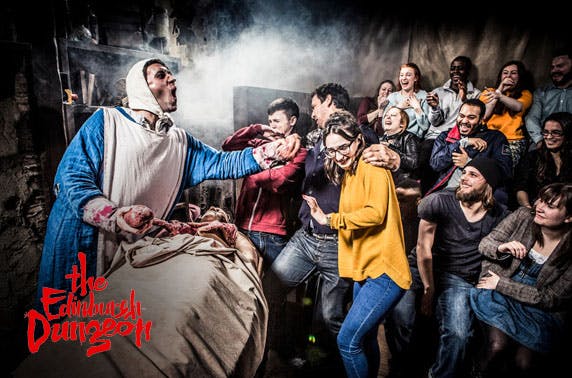 1 or 2 tickets or an unlimited annual pass to The Edinburgh Dungeon plus a souvenir guidebook and 10% shop discount; theatrical actors & spooky sets tell all the city's creepiest tales, plus see the new Mary Queen of Scots show - save up to 56%
Vital Information
1 or 2 tickets, or an unlimited annual pass so you can visit as much as you like in 2019
Enjoy Edinburgh's ultimate underground experience with an interactive tour telling the spooky truth behind some of the city's most terrifying tales
Features a cast of theatrical actors alongside incredible 360° sets, amazing special effects and two underground rides
Learn all about some of the country's most notorious criminals including Burke & Hare and the Scottish legend of cannibal Sawney Bean
Includes a souvenir guidebook worth £2.50 and discounts on photos and the shop
Feeling brave?
Today's deal will see you venture into the dark and mysterious realm of The Edinburgh Dungeon, filled with spooky stories and gory giggles! Snap up one or two tickets for an 80 minute tour around this incredible underground attraction, learning all about some of Scotland's most notorious criminals and terrifying legends along the way.
If one afternoon isn't enough and you're just dying to know more (us too!), opt for our exclusive deal for an unlimited pass so you can visit as many times as you like in 2019! Make the most of the tours guided with a cast of theatrical actors, and learn about some of Scotland's historical horrors as you marvel at the incredible 360° sets, brimming with awesome special effects and even two thrilling underground rides! Hear all about the antics of murderous twosome, Burke & Hare or meet the baddest witch in town, Agnus Finnie as you try to escape her clutches. If you're brave enough, venture down the sickly streets of plague-ridden Edinburgh, or take a peek into the torture chamber where your heart is sure to be set racing!
If your legs haven't completely turned into jelly by the end of your visit, you'll also be able to pop into the fab gift shop where you'll enjoy a cheeky 10% off. As if that wasn't enough, you'll even take home a souvenir guidebook to remind of your spooky underground adventure.
Heads will roll
Visit the brand new Mary Queen of Scots show to learn about her plot to take the English crown and all the gory details of how she met her death and was executed. Scotland's favourite queen required two blows with an axe plus a serrated knife for her head to be fully beheaded – talk about strength!
TripAdvisor loves The Edinburgh Dungeon!
"Great blend of a bit of Scottish history, some storytelling and some slightly gruesome fun. A few surprises thrown in and be ready for some audience participation. My teenage kids loved it!"
"We have visited London and York Dungeons and Edinburgh is by far the best! It was certainly entertaining, scary and funny, all at the same time. Definitely worth a visit."
"I would highly recommend The Edinburgh Dungeon to anyone interested in the gory history of the capital. I loved my experience and I plan on comping back in the future. All staff and actors are great at their jobs, making sure you have the best time possible."
Questions about today's deal
The Edinburgh Dungeon
31 Market Street,
EH1 1DF
Known for spooky, scary, gory and gruesome depictions of Scotland's darkest past, The Edinburgh Dungeon is an incredible museum, dedicated to showing its (rather brave) guests the truth behind some of our nation's most terrifying tales. Boasting a cast of theatrical actors with captivating storytelling skills, authentic 360° sets, state-of-the-art special effects, as well as two awesome underground rides, this is the perfect place to enjoy a day out with your mates, with a difference!