Brand new Fawlty Towers Live Themed Dinner Show at The Fringe
Hilton Edinburgh Carlton, 19 North Bridge, EH1 1SD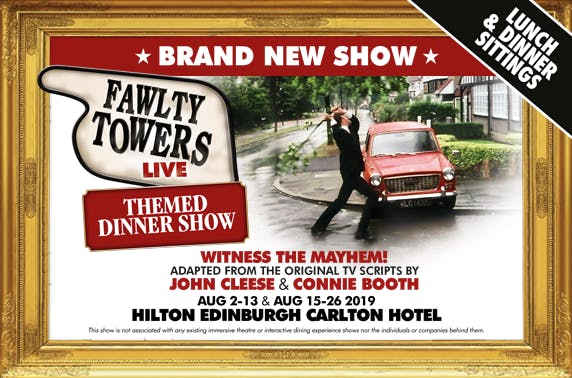 usually

£62.50

save

29%

tickets sold
13:30 Sunday 25th August
Starts at 13:30 and 19:00
Supporting
This deal is part of itison us which helps support brilliant local charities.
One ticket to the brand new Fawlty Towers Live Themed Dinner Show at the Hilton Edinburgh Carlton Hotel during The Fringe; enjoy a 3 course dinner and hilarious theatrical mayhem with service from Basil, Manuel and co.!
Qué?
One peak or off-peak ticket to a brand new Fawlty Towers live themed dinner show at the Hilton Edinburgh Carlton Hotel
Check in to the notorious Fawlty Towers Hotel and enjoy/endure a three course meal and the dining room's infamous service!
Adapted from the original TV scripts by John Cleese & Connie Booth and performed under exclusive licence from them, so you're guaranteed a unique experience!
Meet Basil, Sybil, Manuel and Polly and enjoy a night of theatrical mayhem like no other – brand new for 2019!
Jaw-achingly hilarious fun and the gang's most iconic TV moments recreated in uproarious live action – with you as a much honoured guest
Relive the pinnacle of the golden era of television comedy and reacquaint yourself with some of Britain's most loved characters and scripts
Perfect for diners young and old, whether you're a diehard fan of the show or have no idea about Basil's famous Waldorf salad!
Part of the Edinburgh Fringe
Questions about this event
Hilton Edinburgh Carlton
19 North Bridge,
EH1 1SD
Situated on the Royal Mile, just minutes' walk from Waverley Station, Princes Street's multitude of shops and George Street's fabulous bars, Hilton Edinburgh Carlton is the ideal spot for a bite to eat during a shopping spree, a catch up with the girls or a special celebration before a night on the town. Having recently joined the Hilton brand, the hotel has undergone a gorgeous refurbishment, complete with sweeping staircase, plush foyer and luxurious lounge and bar, and now looks better than ever!