Swing night at Loks Bar & Kitchen, Southside
Loks Bar & Kitchen, 16 Newlandsfield Road, G43 2XU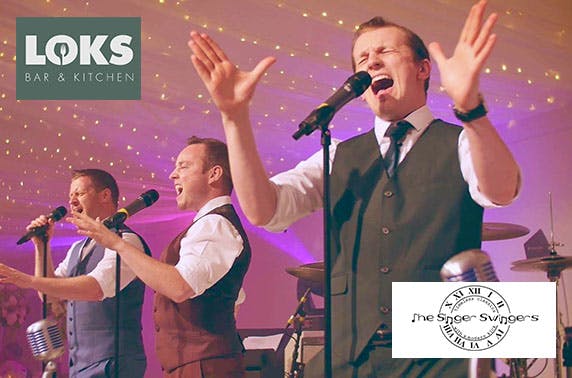 Swing night at Loks Bar & Kitchen, Southside; inc 3 course dinner, fizz and live performance from the Singers Swingers, rated 5* on Facebook
If you clicked this deal because you were looking to put your keys in a bowl, you've misunderstood the concept.
Get an all swingin', all dancin' night out with the incredible Singer Swingers at Loks Bar and Kitchen. You'll enjoy a three-course meal, glass of fizz and a whole lot of swing!
Get your dancing shoes on for:
One or two tickets
Includes a glass of fizz on arrival plus a 3 course dinner
Local favourites the Singer Swingers are renowned for their spellbinding performances and have bags of 5* reviews on Facebook
Hear timeless classics with a modern twist, then Loks' resident DJ will keep you dancing 'til 1am
Loks is in a great location just off Kilmarnock Road
The menu
Carrot and lentil soup
Roast breast of chicken with a thyme & cream jus, seasonal vegetables and potatoes
Dark chocolate torte, salted caramel sauce and toasted hazelnuts
Incredible reviews for the Singer Swingers
"These boys are superb – great tunes, full dance floor every time and the nicest guys."

"Five stars do not do these guys justice. After seeing them at a wedding exhibition myself and my wife knew they were who we wanted. 2 years later at the wedding they were even better than the numerous occasions we went to see them before it. These guys are not just singers, they are an act. They were all people would talk about after our special night. Legends each one. Thank you again."

"Absolutely amazing, great atmosphere, great talent and amazing harmonies! Thoroughly enjoyed."
Questions about this event
Loks Bar & Kitchen
16 Newlandsfield Road,
G43 2XU
Tel: 0141 632 5727
Using Scotland's finest produce from some of the Southside's best suppliers, Loks Bar & Kitchen promises delicious meals made with the best locally sourced ingredients; even their bread is baked in-house by their very own baker. Serving up beautifully presented dishes that are full of flavour, Loks Bar & Kitchen has earned a reputation as one of the Southside's best loved haunts for a tasty meal in stylish surroundings.