News Hacks Xmas Special, Oran Mor
Òran Mór, Top of Byres Road, G12 8QX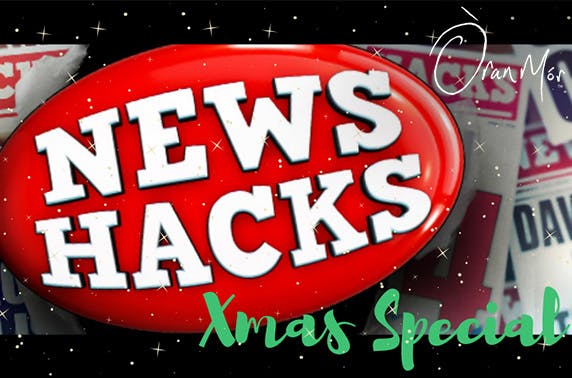 One ticket to News Hacks Xmas Special at Oran Mor, West End; satirical show about Christmas pet peeves, the media and the government
Putting the satire back into the saltire is the hilarious News Hacks show – now with a Christmas special!
Taking on all your least favourite things about Christmas, the show at Oran Mor is perfect for those not quite in the festive spirit.
Hacked off:
One ticket
Hilarious topical show taking swipes at the media, government and – for this one-off special – all the things about Christmas that drive you up the wall
Christmas songs playing in shops, pointless countdown programmes on TV and loads more will be picked apart with expert wit
Created by Rikki Brown, writer of the long running hit radio show Watson's Wind Up
He's also written for Spitting Image, Naked Radio and Rory Bremner
Rikki was called "the King of One Liners" by Rab C. Nesbitt writer Ian Pattison
Takes place at the stunning Oran Mor in the heart of the West End
Questions about this event
Òran Mór
Top of Byres Road,
G12 8QX
Tel: 0141 357 6200
Enjoy fine food, drink and entertainment in the heart of Glasgow's West End. Òran Mór also provides the perfect setting for corporate and private events, weddings, ceilidhs, product launches and fashion shows.