Hotel du Vin Harrogate DBB
Prospect Place, Harrogate, HG1 1LB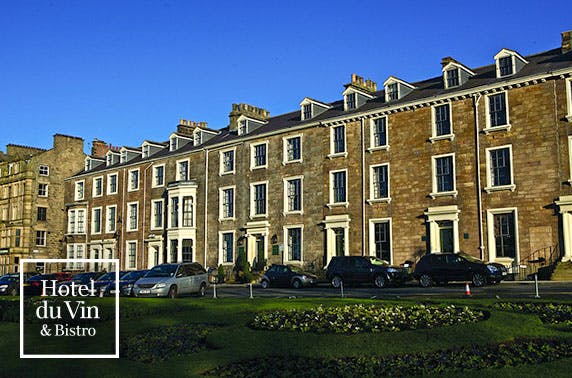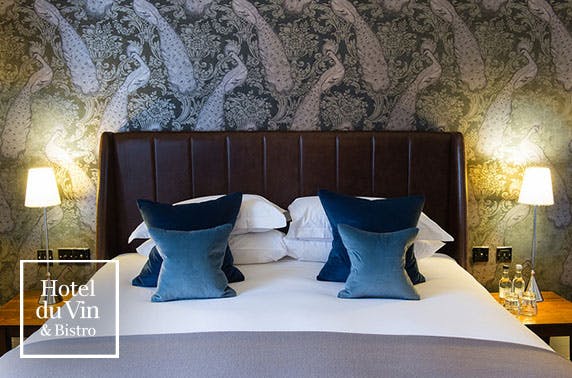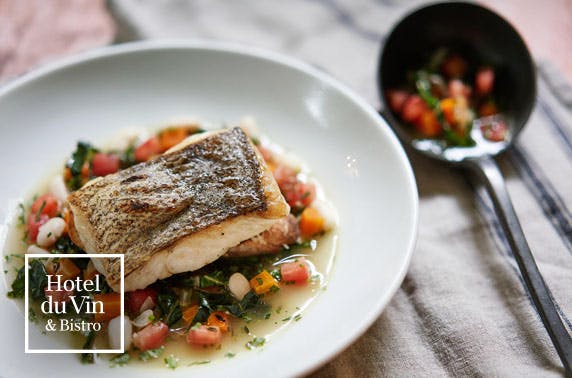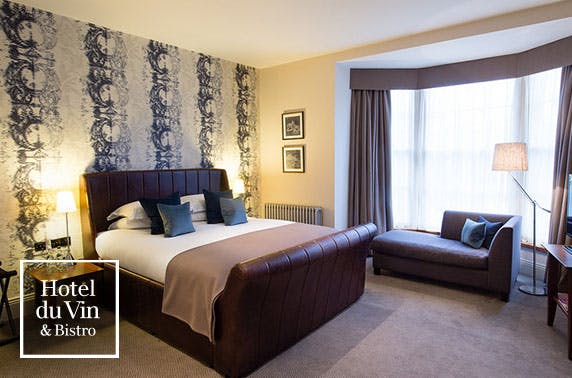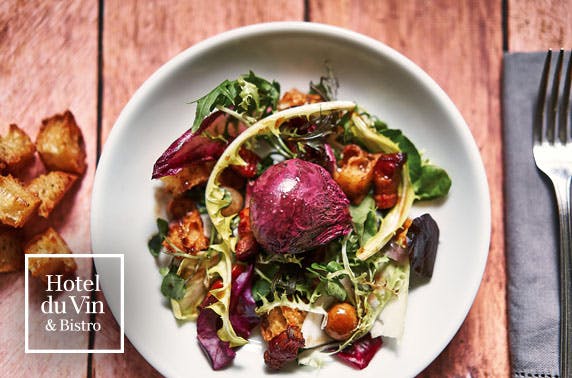 Overnight stay for two with a Michelin-recommended 2 course dinner, breakfast and a bottle of wine on arrival at Hotel du Vin Harrogate; enjoy a luxurious break in the heart of Yorkshire
Vital Information:
Overnight stay for two
Includes a 2 course dinner, breakfast and a bottle of wine on arrival
Dine in the Michelin-recommended restaurant
Rated 8/10 by The Telegraph
Rated 4/5 on TripAdvisor
Stylish stay
Take your favourite person for a fabulous overnight stay at Hotel du Vin Harrogate with today's deal. You'll find a bottle of wine in your room on arrival for the perfect start to your break, then later you'll tuck into a delicious 2 course dinner from the Michelin-recommended restaurant. You'll then enjoy a hearty breakfast the next morning that will set you up for a day of exploring Yorkshire.
Twice voted the "happiest place to live in the UK", Harrogate's charming, laid-back atmosphere offers a true North Yorkshire welcome and is the perfect base to explore the wider area, whether you want to admire the countryside or head to the city of York to discover its stunning architecture and history.
Sample menu
Starters
Cream of Jerusalem artichoke soup with roasted chestnuts and cep brioche
Duck rillettes with a carrot râpées salade and toasted sourdough baguette
Crispy potato and salt cod croquettes with a tangy red pepper and tomato sauce
Mains
Normandy chicken braised in red wine with baby onions, mushrooms and pancetta
Roasted hake served on a crispy crouton with an aromatic broth
Pumpkin ravioli with sage browned butter, vegetarian style parmesan and pecans
Desserts
Classic set custard with a rum and raisin caramel
Poached pear with vanilla ice cream and chocolate sauce
Crumbly Scottish Anster cheddar with a traditional fruit cake
Great reviews on TripAdvisor
"It is a beautiful cosy hotel, which charmed us with its quiet, homely feel and the friendliest, most welcoming lady on reception. She was wonderful and very helpful in every aspect – from directing us how to discover Harrogate to making us feel at home. Thank you for making our stay special, also thank you and well done Hotel du Vin. We will be coming back soon"
"Simply excellent!"
"Damn good – again!"
"This hotel was exceptional"
Questions about today's deal