Award-winning The Restaurant at The Woodpecker dining, Lanark
20 Wide Close, Lanark, ML11 7LX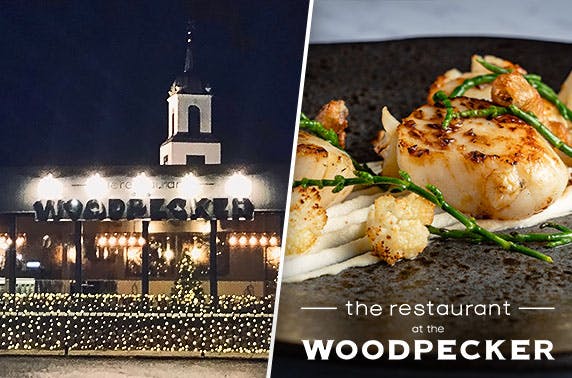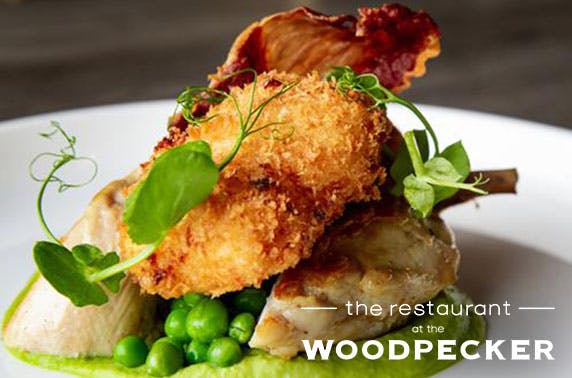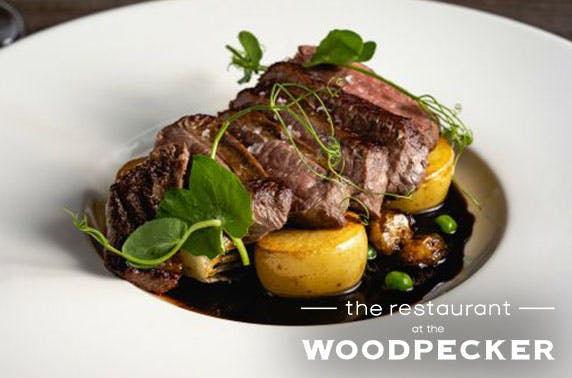 2 courses for two with an optional glass of wine or Prosecco each at The Restaurant at The Woodpecker, Lanark; dine on dishes from 2018's Casual Dining Chef of the Year who has catered to the likes of Janet Jackson, Mick Jagger & Oasis - save up to 58%
Vital information
Two courses for two
Option to include a glass of wine or Prosecco
Fantastic restaurant opened in Lanark earlier this year
Head chef Ian Kerr won Casual Dining Chef of the Year 2018 at the Scottish Food Awards and has catered to the likes of Janet Jackson, Mick Jagger and Oasis
4.5/5 TripAdvisor rating and 5/5 on Facebook
Midweek and weekend availability
Two courses
Ready your taste buds for a delicious treat with today's tasty deal for two at the newly-opened The Woodpecker in Lanark. You and a fellow foodie will tuck into a starter and main of your choice from a varied and carefully curated menu. You'll unwind in relaxed and contemporary surroundings inside this gem of a restaurant; with a bar area featuring a DJ downstairs, you can take your evening here further should you choose. As well as fantastic food, you'll also have the option to include a glass of wine or chilled Prosecco each with today's deal, so you'll definitely be leaving with a smile on your face!
The Restaurant at The Woodpecker
Since flinging open its doors in February, The Restaurant at The Woodpecker has made quite the impact on Lanarkshire locals and visitors alike. Earning a stellar reputation for itself in just a few short months, the restaurant's head chef Ian Kerr scooped up this year's Casual Dining Chef of the Year from the Scottish Food Awards. On top of rave reviews on TripAdvisor and Facebook, you know you're onto something good when previous diners of Ian's include the likes of Janet Jackson, Mick Jagger and Oasis to name a few. Well, if it's good enough for celebrities, sign us up!
Sample menu
Starters
Spiced chicken roulade, toasted pine nuts, endive salad and raspberry vinaigrette
Carmelised red onion tart with maple bacon ice cream
Potted beef with onion marmalade and toasted brioche
Mains
Beef olives stuffed with pork, with beetroot & apple pearls, burnt onion & parsnip puree
Roast cod Fillet, asian miso broth with crisp carrot, leek, kale, chilli, ginger & lemongrass
Garden pea risotto with roast butternut squash
Rave reviews
"The food, drink, staff and service were all first class. It was an absolute joy and we are already planning a return visit. I would highly recommend – 5 stars."

"Go now while it's getting established, because once word of mouth spreads this place will be booked out for weeks in advance! Astonishingly good food; this is the only restaurant in South Lanarkshire that we've wanted to go to twice in one month and we'll definitely be back for more."
"Finally, the Lanark area has a quality restaurant that would match the best in London. The Restaurant at The Woodpecker has upped its game since February this year and if this serving is anything to go by, it is in line for Michelin awards."
Questions about today's deal