TriBeCa brunch and Prosecco
West End, Merchant City and Giffnock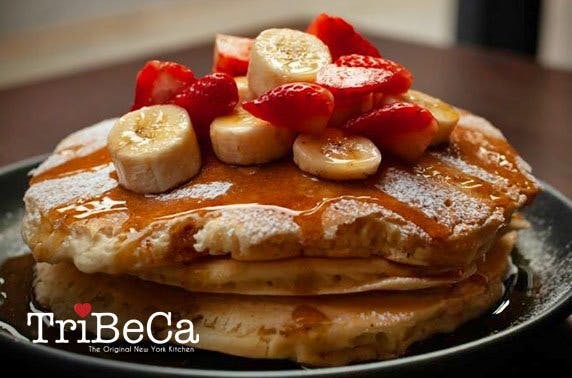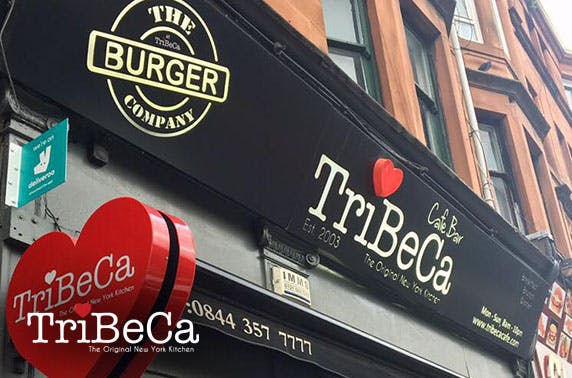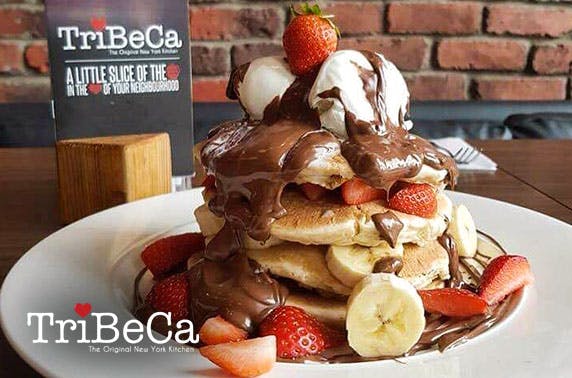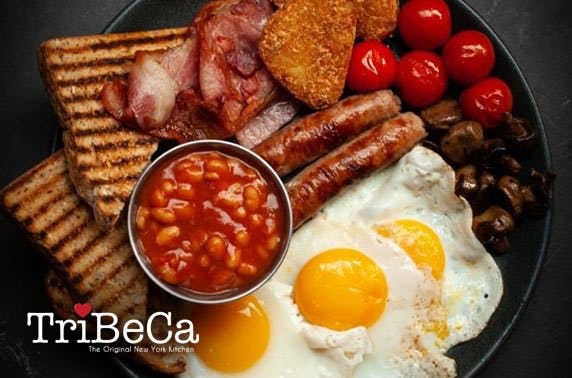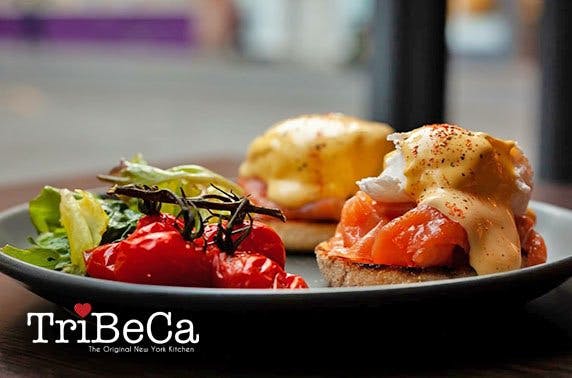 Brunch for two including pancakes, waffles, full American breakfast and more with an optional glass of Prosecco each at TriBeCa; choice of 3 locations - save up to 60%
Vital Information
Brunch for two
Option to include a glass of Prosecco each
Choice of 3 locations: West End, Merchant City and Giffnock
Rated as one of the best brunch spots in Glasgow
100% of itisoners would recommend
Valid 7 days
Beautiful brunch
Today's deal will see you and a friend be lifted straight into your Sex and The City dreams with a delicious brunch at the New York style TriBeCa. Choosing from the likes of pancakes, waffles and French toast, served up with morning favourites like sausages, eggs and hash browns, you'll start your day off right with a tasty treat.
There's three locations to choose from: Dumbarton Road in the West End, the Merchant City or Giffnock, so no matter where you are, you can get your fix of a hearty brunch. Plus, you have the option to include a glass of Prosecco each for a sparkling start to your day!
NY style dining
With three fab locations you won't have to travel far to experience the New York neighbourhood vibe that's become synonymous with the TriBeCa name. Named by The Scotsman and People Make Glasgow as one of the best brunch spots in the city, they really know their stuff. With a reputation for BIG plates, skyscraper pancake stacks, delicious coffees, fresh juices and amazing stateside inspired specials – if you've got an appetite like a sparrow, fugeddaboutit!
Sample menu
Stack of fresh buttermilk pancakes served with butter, 100% Grade A Canadian Ember maple syrup, bacon, link sausages, eggs and hash browns
New York classic French toast, bacon, sausages, eggs and hash browns
Stack of fresh waffles served with butter, 100% Grade A Canadian Ember maple syrup, bacon, link sausages, eggs and hash browns
Eggs, golden hash browns, link sausages, bacon, sweet cherry tomatoes, seasoned roast button mushrooms, baked beans and a generous portion of toast & butter
Poached eggs on a toasted muffin with hollandaise sauce and grilled loin bacon, fine smoked salmon or wilted spinach
Loved by itisoners
"Excellent food and service!"
"Perfect brunch - service was excellent and food lovely with huge portions."
"Excellent brunch. Friendly, efficient service. Generous portions. Lovely place for a relaxed bite to eat."
Questions about today's deal
TriBeCa Bar & Grill, Giffnock
1 Fenwick Road, Giffnock,
G46 6AU
Tel: 0141 6376297
TriBeCa Café Bar, West End
102 Dumbarton Road, Glasgow,
G11 6NX
Tel: 0141 3347457
TriBeCa Metro
51 Bell Street,
G1 1NX
Tel: 0141 552 5175