Rugby Super Saturday at Sloans
Sloans, 108 Argyle Street, G2 8BG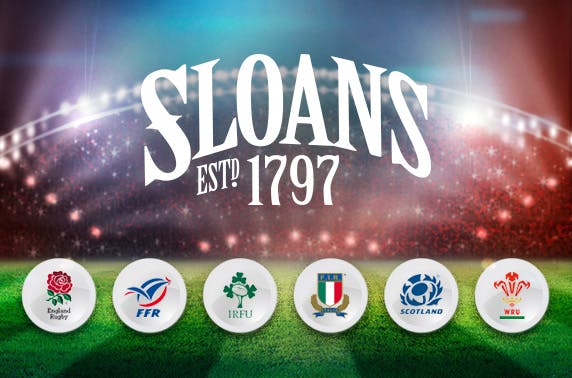 Rugby Super Saturday: Italy vs. France, Wales vs. Ireland and England vs. Scotland at Sloans, City Centre; free tickets to watch the games on the big screen plus a pie at every half time
We used to think we were pretty good at rugby, but everyone just kept saying "nice try". How rude.
Watch the professionals at their best with a free ticket to watch the Super Saturday game on the big screen at Sloans.
Get in the scrum:
One free ticket
Free pie at each half time
Watch the Super Saturday rugby matches on the big screen
See Italy vs. France (12:30pm), Wales vs. Ireland (2:45pm) and England vs. Scotland (5pm) on Saturday 16th March
Held in Grade A-listed Sloans, Glasgow's oldest bar and restaurant
Questions about this event
Sloans
108 Argyle Street,
G2 8BG
Tel: 0141 221 8886
A Glaswegian institution, Sloans is the city's oldest bar and restaurant. Set within a Grade A listed building, it's full of old-world charm with a gorgeous ballroom and plenty of original features to boot, making it the perfect spot for a cosy date night, night out with friends or refuelling after a day's shopping.