Seven Bro7hers Beerhouse, Ancoats
The Ice Plant, 39 Blossom Street, Manchester, M4 5AF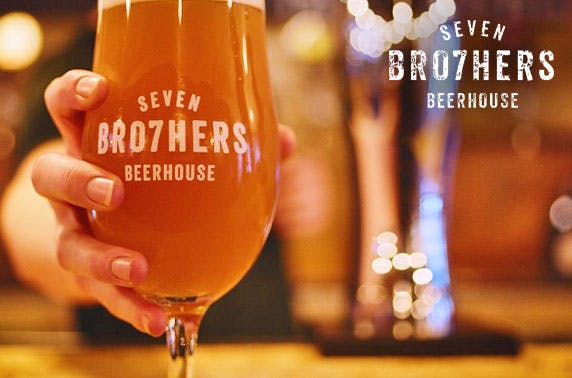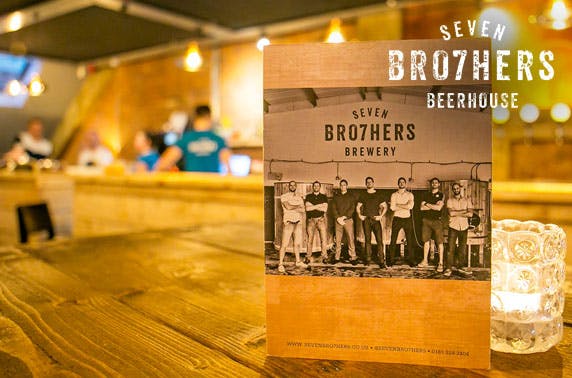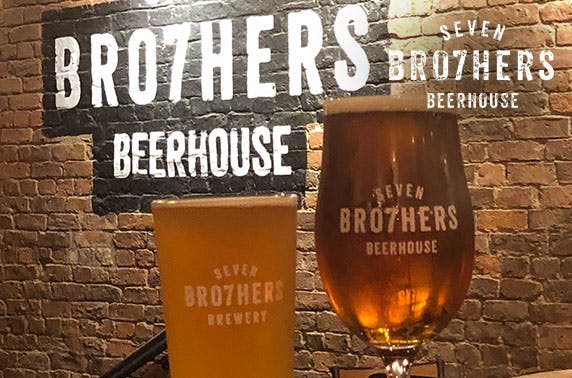 A pint of beer each for two or four at Seven Bro7hers Beerhouse, Ancoats; enjoy any beer on the menu from the award-winning Salford brewery – save up to 50%
Vital information
A pint of beer each for two or four
Fantastic beerhouse from the award-winning team behind Seven Bro7hers Brewery; a family-run microbrewery that produces a range of brews now sold across the UK
The brewery earned a silver medal from the SIBA Cask Beer Awards 2018 for their Watermelon Wheat Beer
4.5/5 TripAdvisor rating
Valid 7 days
Don't worry, beer happy!
If you're a lover of all things lager-related, you'll be hoppy to discover today's fantastic deal; you and up to three buddies can enjoy a refreshing pint of the good stuff at Seven Bro7hers Beerhouse in Ancoats.
With an award-winning brewery based in Salford, Seven Bro7hers' beers are now well-stocked in bars across the UK and with a single sip, you'll understand why. If you like a fruity number, take a taste of the award-winning Watermelon Wheat Beer and get that summer feeling. Or if you prefer something a little more bitter, go for a dark and silky stout with a burst of caffeine and chocolate. Or keep it classic and British with an English Pale Ale, laced with floral and green tea undertones. Whichever brew you choose, we have a feeling you'll beer very happy afterwards!
Lucky number 7
Having grown up watching their dad brew creative concoctions at home, the seven McAvoy brothers were inspired to make their own way in the industry, and so the Seven Bro7hers Brewery was born! Combining a deep-rooted passion with the very best ingredients and a little secret know-how, the result is a range of fantastic beers that have gone on to gain industry recognition, including scooping a silver medal from the SIBA Cask Beer Awards 2018 for their fruity Watermelon Wheat Beer.
Having opened a fab Beerhouse back in 2016, this bustling brewery has earned a name for itself as one of the top local bevvies around and have gone on to stock their products in some of the country's best beer havens. Quickly gaining a reputation as one of Manchester's best watering holes, you'll be able to sample the full range at this fantastic Ancoats spot!
4.5/5 TripAdvisor rating
"Been to Seven Brothers several times now and it never fails to hit the spot - a wide range of excellently kept cask, craft and bottled beers keeps us coming back every time! Add to that the great atmosphere and friendly staff makes us feel lucky we have such a great bar only a few miles from home."
"Rocking. Fun. Edgy. Value for money. Great beer. Good location. Well done Brothers (and sisters) Enough said."
"Great bar with a great atmosphere situated just a 15-minute walk from Piccadilly station."
Questions about today's deal
Seven Bro7hers Beerhouse
The Ice Plant, 39 Blossom Street, Manchester,
M4 5AF
Tel: 0161 228 2404