Scotland vs Italy 6 Nations tix & Rome stay
6 Nations Rugby Italy v. Scotland, Stadio Olimpico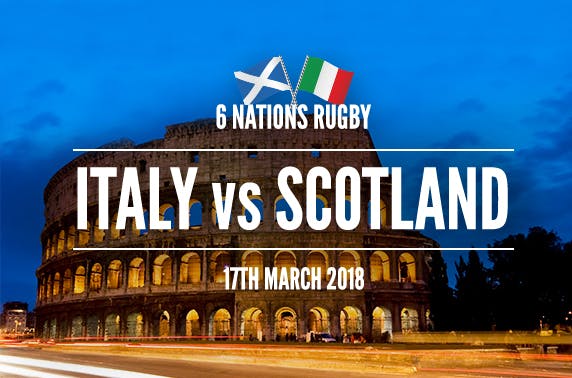 From £169 per person for 1 ticket to see Scotland vs Italy at the Stadio Olimpico as part of RBS 6 Nations on 17th March 2018 plus a 2 night B&B stay in a choice of 3* or 4* hotel in Rome or from £169 to upgrade to a 3 night stay
Vital Information
One ticket to see Scotland take on Italy in the RBS 6 Nations on 17th March 2018
Held at Stadio Olimpico, one of Europe's largest stadiums
Includes a two or three-night B&B stay for one in Rome with a choice of 3* or 4* hotels
Visit famous attractions such as the Colosseum, the Vatican and Trevi Fountain
With an average attendance of 72,000 per match, the RBS 6 Nations is rugby's greatest attended event in the world
RBS 6 Nations
With an average attendance of 72,000 per match, the RBS 6 Nations is rugby's greatest attended event in the world and with today's deal you can catch all the action up-close and in person with a ticket to see Scotland take on Italy at the fantastic Stadio Olimpico.
Watching the action from the Curva Sud or Curva Nord seating area, rugby fans can look forward to some tense moments as the two teams meet again to battle it out in 2018's tournament.
Italy
Members can explore the spectacular city of Rome and revel in endless antiquities and artworks, some spectacular shopping or just enjoy a gelato (or four!). Make the most of your weekend in the Eternal City and head to famous attractions such as the Colosseum, the Vatican and Trevi Fountain.
Questions about today's deal