Sight-seeing flight experience, North of England
Fishburn Airfield, Garmondsway, Bishop, Middleham, DL17 9DY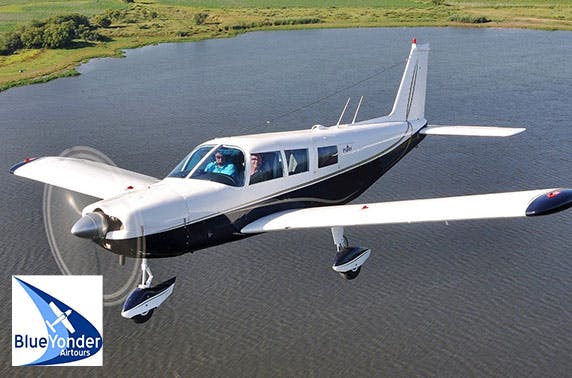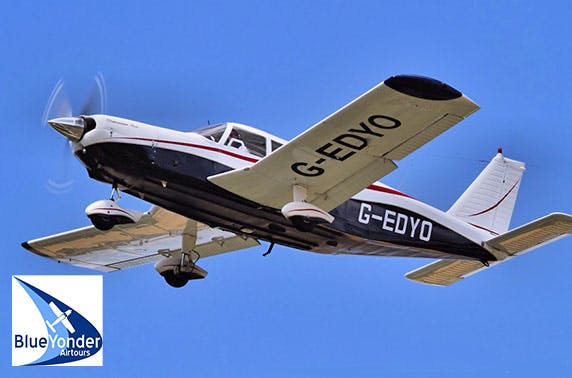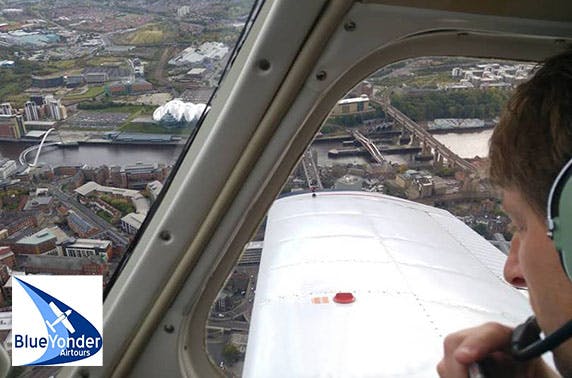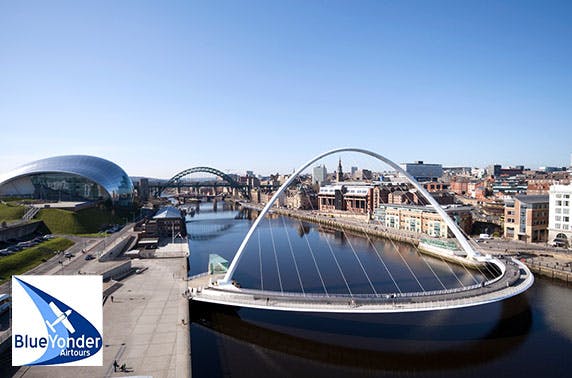 Sight-seeing flight experience with Blue Yonder Air Tours; take to the skies for 25 minutes and see fantastic hotspots including Harry Potter landmarks as you glide above the North of England – save up to 50%
Vital information
Sight-seeing flight experience
Soar through 20 miles of sky with up to four friends in a 7 Seater Piper PA32 aircraft; perfectly designed with large windows to allow you to see and photograph more
Enjoy a completely customisable trip; choose where you want to fly with optional air routes including Newcastle, Durham and Northumberland
Glide above famous landmarks in the North of England, including the likes of Alnwick Castle which was used for the Harry Potter movies
Aircraft takes off from Fishburn Airfield in Durham, just a 90-minute drive from Edinburgh
5/5 TripAdvisor rating
Come fly with me
When Frank Sinatra sang "pack up, let's fly away," we don't think this is quite what we had in mind! But with today's deal, you can do just that with a unique and unforgettable flight experience. Taking off at Fishburn Airfield in Durham, Blue Yonder Air Tours will take you where you need to go with a fantastic sight-seeing tour across the North of England!
As if the opportunity to go on an air safari wasn't unique enough, you'll even get to choose your own route, meaning this trip is customisable for what you'd like to see. Blue Yonder's usual 20-mile route explores the gorgeous Cathedral of Durham from a new angle but if you'd like to journey elsewhere, you can upgrade to glide further across the skies. Swoop over Newcastle to see its famous bridges, soak in the stunning Lake District scenery from above or take a trip to the Yorkshire Moors and Whitby. And if you're a Harry Potter fan, you're in for a real treat; Alnwick Castle in Northumberland is also available for the tour, meaning you can whizz above the same castle where some scenes for the famous movies were filmed. Now that's definitely something you don't get to do every day!
Whether you want to take to skies solo, win points for a unique date you'll both never forget or have an amazing family outing, this is the perfect activity for anybody who has a keen sense of adventure. One thing's for sure – you'll definitely want to take a camera for this trip!
Blue Yonder Air Tours
Offering unique and tailored air tours, Blue Yonder Air Tours are experts in delivering the perfect sight-seeing flight experience. With fully-qualified pilots, you'll receive a full running commentary on your flight as you embark on a 7 Seater Piper PA32 aircraft. As well as being regulated by both the U.K. Civil Aviation Authority (CAA) and the European Aviation Safety Agency, this spacious aircraft is perfect for sight-seeing, with large windows to allow for maximum photograph opportunities. With an easy access door to the rear of the plane, passengers with mobility issues can board easily and safely.
As well as large and comfy seats plus extra head height to ensure a comfortable flight, you'll glide through the skies at 60mph faster than other smaller aircrafts, allowing you to soak in even more fantastic landmarks on your tour!
5/5 TripAdvisor rating!
"Wow! Absolutely amazing. I would fully recommend Blue Yonder Air Tours. Excellent prices and fantastic service from start to finish."
My wife and I had a great flight up the North East coast with Blue Yonder Air Tours. We took in a number of landmarks including the Tyne Bridge, The Sage Gateshead and Newcastle's football stadium before heading further up the coast. It is amazing to see these from the air. The coastline in that area is stunning with beautiful beaches. We would highly recommend this company. I am hoping to return and take a flight over the Lake District."
Questions about today's deal
Blue Yonder Air Tours
Fishburn Airfield, Garmondsway, Bishop, Middleham,
DL17 9DY
Tel: 07824510979